Ad blocker interference detected!
Wikia is a free-to-use site that makes money from advertising. We have a modified experience for viewers using ad blockers

Wikia is not accessible if you've made further modifications. Remove the custom ad blocker rule(s) and the page will load as expected.
November to Remember (normally abbreviated to N2R) was an annual Extreme Championship Wrestling professional wrestling show held during the month of November between 1993 and 2000. From 1997 onward, the event was broadcast on pay-per-view. The event was considered to be ECW's flagship supercard.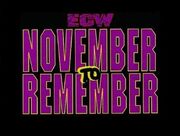 The first November to Remember event was held in 1993. It became the longest standing ECW event, and was billed as the flagship event. Annually, the event would be hyped on Hardcore TV with a long music video montage, set to "November Rain" by Guns N' Roses.
Event list
Edit
| Event | Date | Location | Venue | Attendance | Buyrate |
| --- | --- | --- | --- | --- | --- |
| November to Remember 1993 | November 13, 1993 | Philadelphia, Pennsylvania | ECW Arena | N/A | N/A |
| November to Remember 1994 | November 5, 1994 | Philadelphia, Pennsylvania | ECW Arena | N/A | N/A |
| November to Remember 1995 | November 18, 1995 | Philadelphia, Pennsylvania | ECW Arena | N/A | N/A |
| November to Remember 1996 | November 16, 1996 | Philadelphia, Pennsylvania | ECW Arena | N/A | N/A |
| November to Remember 1997 | November 30, 1997 | Monaca, Pennsylvania | Golden Dome | 4,634 | 0.20 |
| November to Remember 1998 | November 1, 1998 | New Orleans, Louisiana | Lakefront Arena | 5,800 | 0.21 |
| November to Remember 1999 | November 7, 1999 | Buffalo, New York | Burt Flickinger Center | 3,000 | 0.20 |
| November to Remember 2000 | November 5, 2000 | Villa Park, Illinois | Odeum Expo Center | 4,600 | N/A |